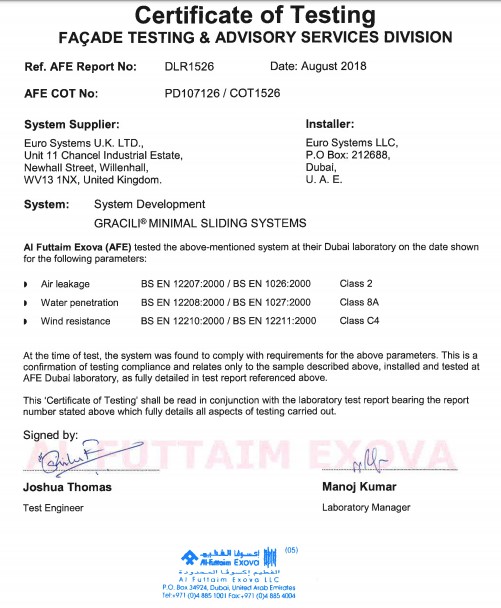 TESTING CERTIFICATION
GRACILI MINIMAL SYSTEMS®
At Gracili Minimal Systems®, we carry out various tests to ensure that the minimal windows and doors are delivered with the highest quality and performance. Gracili® minimal sliding windows and doors go through a rigorous testing process and have achieved high ratings as per the industry standard.
The Gracili® minimal sliding doors meet all the necessary qualifications to be certified for the following parameters:
– Water permeability: This test of water penetration determines the resistance of our Gracili® sliding door system against water. This is to certify that our minimalist door system has an effective drain system, especially under the water intrusion test. This test is designed to examine a glass window's resistance to water pressure as well.
– Air Leakage or Permeability indicates the amount of air that will travel through a window system when it is in the closed position. Air leakage testing ensures that all opening segments seal together to stop as much air permeability through a system as possible.
– Wind Resistance: This is a test of a door or window's strength against resistance of the wind. The test is conducted where the levels of air pressure are increased slowly to measure the extent to which the windows and doors bend. It is essential to increase comfort and ensure minimal wind intrusion and is also an essential factor when it comes to environmental factors and energy-efficiency.
Certified Minimal System for Maximum View