Adaptive Design
Gracili minimal systems® are adaptable and can be configured according to the site dimensions. The sliding system can have up to four tracks. These tracks can also be applied in combination with fixed lights for interior/exterior corners without any obstructing posts.

Custom Design
The wide variety of colour schemes offered in different RAL, anodized and stainless steel finishes adds a touch of luxury to the area where the Gracili® is installed. The unique 25 mm minimal profile of the system can be customized to match the property.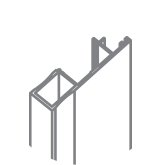 Profile Design
The frame profile is reduced to a minimum dimension of 40 mm to allow seamless integration into floor, ceiling and walls only the 25 mm leaf profile is visible, allowing maximum light penetration into the room. Due to its zero threshold, the glass panels can slide easily with effortless force.